low-priced accomodation.
rooms, location, all top!
Relaxing sleep
That's exactly what we all are looking for, be it after a long car ride or a hard day's work! Simply check in, jump in the shower, maybe grab a bite and then just slump down on the bed and drift off to sweet dreams. So, what are you still waiting for?
Take a look at our motel...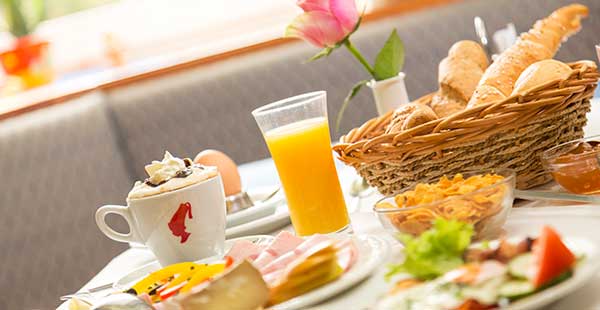 A balanced breakfast
That's what you need to start off your day. You can choose between the standard breakfast or an individual menu, as well as tasty snacks, fresh sandwiches and a wide selection of beverages.
Enjoy your meal...
Why Ybbs? (1)
Well, there are many reasons . First of all, our motel is located right next to the highway A1 - exit Ybbs, to be precise. Right in the Mostviertel region, between Amstetten and Melk. When you're getting tired from your trip, what's better than taking a rest close to the highway? Yes, close - but not too close. You can see the road from our motel, but you can't hear it, and that's how it ought to be. After all, you want to spend a quiet night, right?
Why Ybbs? (2)
There are so many exhibitions in Wieselburg, as well as countless innovative businesses in the surrounding area. Wouldn't it be great to have good accomodation nearby? Exactly. And as if our low prices were not enough to please your boss, you can also tell him you worked all night, thanks to our free high-speed Wi-Fi. However, chances are you will be so well-rested and energetic that you already finished all your tasks with ease.